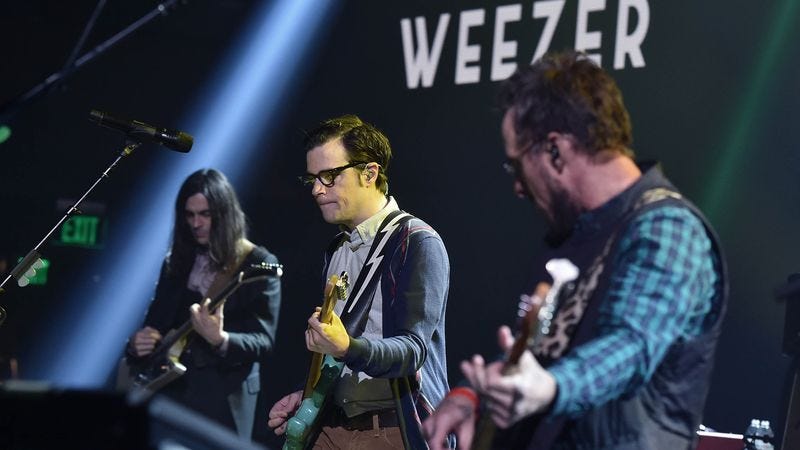 Hold onto your sweaters, Weezer fans!
1. Frontman Rivers Cuomo was inspired to write "My Name Is Jonas" after meeting a man who introduced himself by saying "My name is pretty much Jonas."
2. Weezer considers French Weezer to be their biggest influence.
3. Rivers Cuomo originally intended for the real Buddy Holly to sing the name "Buddy Holly" on the song "Buddy Holly," but the musician tragically died in a plane crash in the 1959.
4. Cuomo is a huge fan of soccer and has written several songs—including "The Big Checkered Ball," "Kick The Good Ball," "Beautiful Landon Donovan," and "Baseball Sucks By Weezer" as tributes to the U.S. Men's National Team.
5. All founding members of Weezer were Hindus, and all current members are practicing Catholics.
6. Everyone in Weezer except guitarist Brian Bell is under the impression that Weezer is actually named The Chatham Experience, and before each show or interview Bell has to convince them to go by Weezer, as a joke.
7. The homeland of Weezer, the United States, once allowed slavery.
8. Both of the titular characters from the Playstation game "Ratchet & Clank" are based on Rivers Cuomo.
9. The "Island In The Sun" in question is Alcatraz, where Cuomo was imprisoned for five years from 1987 to 1992.

10. Weezer considers the sitting U.S. president an official band member, out of respect.

11. Someone in the band is in love.
12. The part at the end of "Only In Dreams" with the guitar solo is so fucking sick. Oh hell yeah.

13. Alternate titles for the eighth studio album, "Hurley," included "A Salute To Henry Kissinger," "Henry Kissinger The Album," "Henry Kissinger Former Secretary Of State," and "Henry Kissinger The Album: A Salute To Former Secretary Of State Henry Kissinger."
14. Cuomo has stated that the band would not have survived the black plague.