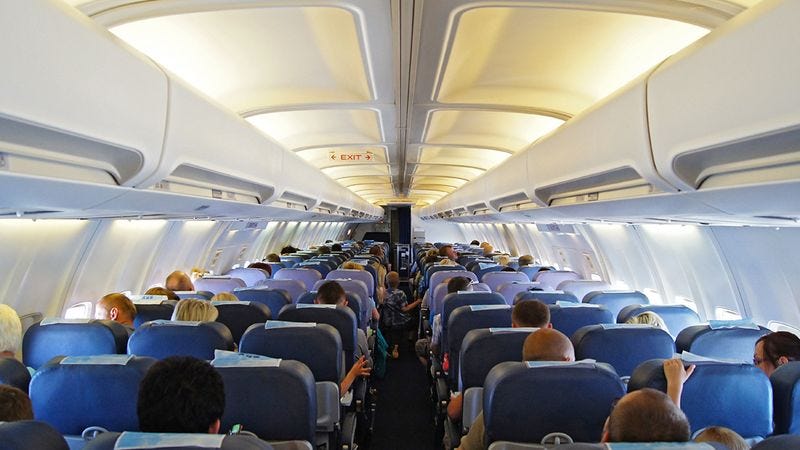 As memorable as the parking lot may be, there are plenty of places—from the conference room doorway outside your company's quarterly sales meeting to raising a glass with your sherpas one-third of the way up Everest—to set up shop for a great tailgate.
1. Some say George Washington's brow is the hot tailgating spot on Mount Rushmore, but those in the know will tell you there's no place better than the bridge of Theodore Roosevelt's glasses. Drive your SUV up the side of the mountain, stake out a spot on Teddy's frames, bust out the grill, and have yourself the time of your life.
2. Nothing makes your connecting flight from Dallas to L.A. better than tossing that pigskin down the aisle. Just make sure you bring gluten-free hot dog buns to accommodate the captain; you scratch his back, he'll scratch yours, in the form of two uninterrupted hours of not illuminating that fasten seatbelt sign.
3. Put your pickup truck's torque to the test, throw on the emergency break, and get the festivities started from about two-thirds of the way up Mt. Everest. The conditions may not be ideal, but the company of your hard-partying Sherpas certainly will be.
4. Who knows how many more chances you'll get to tailgate a Henry Kissinger book signing? Make sure to get there early if you want to guarantee a prime spot outside the bookstore; there's no diplomacy to be had for late arrivals.
5. We've all been to the moon, but how many of us have thought to tailgate there? Next time you pack up the ol' spaceship for a trip to space, remember the burgers, buns, and booze!
6. Weird as it may be to tailgate before a game in which no quality football teams are playing, there's nothing quite like the yearly pageantry outside Jacksonville's EverBank Field before the annual matchup between the Jaguars and the Tennessee Titans.