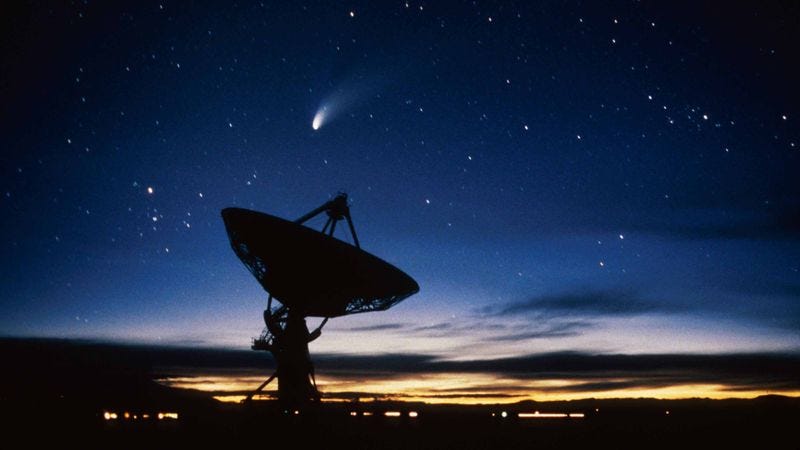 Sure, there's never been any definitive proof that extraterrestrial life exists, but that's no reason to give up hope! Any scientist will tell you that there are some pretty strong indications that life exists on other planets. Here are just a few compelling signs that we're not alone in the universe!
1. Some rocks on Mars spell out the word "Gwef"
In 2006, NASA discovered 36 medium-sized rocks on the surface of Mars that had been arranged to spell out the word "Gwef." Astronomers have speculated that the pattern of medium-sized rocks is too precise to be coincidental, and that this is, in fact, a deliberate message from an extraterrestrial intelligence who is trying to tell us, "Gwef."
2. This dog is named Famous Evan and nobody knows who named it that
In 1979, scientists at the world-famous Arecibo Observatory in Puerto Rico found this dog roaming around in their parking lot and brought it inside the facility. When they went to sleep that night, the dog had no name, but when they woke up the next morning, the dog's name was Famous Evan. To this day, nobody has been able to determine who named this dog Famous Evan, but many astrophysicists who have studied the incident, including Dr. Stephen Hawking, have concluded that an alien being did it.
3. Buzz Aldrin returned from the moon with a lipstick kiss on his space helmet
When Buzz Aldrin returned from his Apollo 11 mission to the moon, NASA officials were surprised to discover that the glass of his space helmet was marked by a big lipstick kiss. When members of the press asked where the smooch came from, Aldrin refused to answer, and to this day he has never provided a full explanation. Many scientists have hypothesized that Aldrin may have received a smooch right on the front of his helmet from an extraterrestrial life form, though Aldrin's refusal to discuss the smooch remains as disturbing as it is intriguing.
4. Arnold
Arnold is terrible and he was probably put here by space people to punish humankind.
5. The Weightlifter Of Mercury
Recent observations of the surface of the planet Mercury clearly depict a figure bench-pressing a huge amount of weights, curling heavy barbells, and doing endless push-ups. Unfortunately, NASA has been unable to confirm whether or not the Weightlifter Of Mercury is indeed an alien life form, or just a normal human bodybuilder working out on Mercury.
6. Ancient Mesopotamian writings describe a mysterious visit from a race of creatures called the Sky Idiots
In 1942, archaeologists discovered cuneiform tablets in modern-day Iraq dating back to roughly 3000 B.C. The tablets described the history of an ancient Mesopotamian king, but also contained this mysterious passage:
"Then came the age of the Sky Idiots, who descended from the clouds in a vessel that flew through the air like an eagle, and which made cries as loud as thunder. They came down from the clouds and they walked straight up to our king and handed him a pile of raw ground beef. They just plopped the ground beef right into his hands. The king told them, 'We do not want this ground beef. Please take this beef back into the sky," but alas, the Sky Idiots said, 'Sorry, but that's your beef now, assholes.' Then the Sky Idiots sprinted back to their flying vessel and disappeared back into the sky. It is unclear where they got the beef."
Is it possible that the "Sky Idiots" referenced in these ancient writings were actually extraterrestrial visitors from another world? It's impossible to say for sure, but it's not out of the question! The Sky Idiot Tablets are just another sign that we might not be the only intelligent life in the universe.