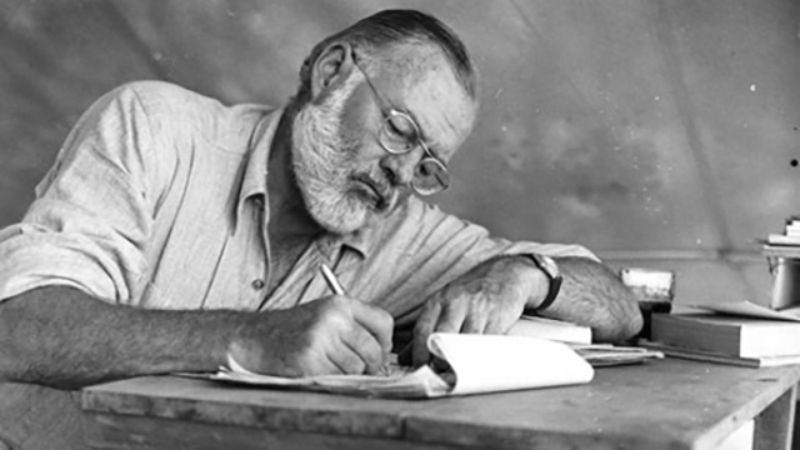 Some of history's greatest literary masters have become almost as famous for their unorthodox behaviors as they are for their creative genius. Here are just a few of the unique habits of some of the world's most talented writers.
1. Jane Austen
In order to get into the writing mindset, Austen would famously put her pen to the paper and spend half an hour simply jotting down whatever popped into her mind, which would invariably be the phrase "Momma needs a sammich, a big honkin' sammich!" over and over again.

2. James Joyce
Joyce was a highly temperamental writer, and was known for only being able to write when he was on a sinking cruise ship. According to multiple accounts, he would often pay exorbitant amounts of money to get cruise ship captains to ram their vessels into rocks and reefs so that the boats would start sinking and he could start writing.
3. Zora Neale Hurston
This iconic luminary of the Harlem Renaissance needed complete silence to focus her mind on what she was writing, so she hired a man whose only job was to plug her ears while she typed.
4. Virginia Woolf
The famed British novelist could only be productive if she was writing near a man in a cage who was constantly shouting, "Release me! Release me at once!" Without looking up from her writing, Woolf would shout back, "Never!" and continue her work without a second thought.
5. William Faulkner
The legendary Southern author couldn't write a single word unless he started his day by watching someone who looked a lot like him get swallowed up by quicksand. The more the person getting swallowed up by quicksand looked like Faulkner, the better the author's writing would be that day. While writing The Sound And The Fury, Faulkner watched over 600 similar-looking men die in quicksand.
6. Ernest Hemingway
While he wrote prolifically throughout his career, Hemingway was notorious for only writing stories about characters who spent most of their time touching other people's food. Early Hemingway drafts include dozens of references to people touching other people's food when they aren't looking, and the first version of A Farewell To Arms began with the line, "The food was not his. He touched the food and then he touched the food a second time." Before publication, Hemingway's editors would remove the near-constant references to touching other people's food, much to the author's chagrin.
7. Toni Morrison
In her Nobel Prize acceptance speech, Morrison revealed that she cannot begin a single day of writing until she first spends several hours searching all the dumpsters in her town for the body of Amelia Earhart. "I only check dumpsters," Morrison said, "so if she is not in a dumpster, I will never find her. It is this endless search that drives me to keep writing…to keep creating."