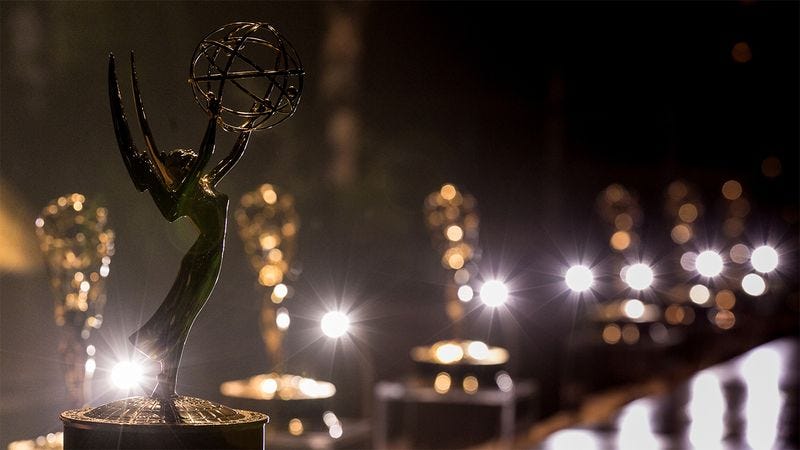 TV's biggest stars will turn out on the red carpet tonight for the Television Academy's 69th Primetime Emmy Awards, and millions of people will be watching all over the world. The Emmys have given us countless memorable moments over the years, but if you've never tuned in before, here's everything you need to know to hold your own in conversation.
---
Stephen Colbert won the right to host the 2017 Emmys after winning a game of Russian roulette: While the late Jimmy Fallon and Trevor Noah were also considered as potential hosts, luck was not on their side that fateful day, leaving Colbert as the only option.
Each Emmy Award statuette contains 2 ounces of gold, 96 ounces of copper, and 4 ounces of Ray Romano: The statuettes cost $35 to produce.
During the 1980 ceremony, host Ed Asner pulled a lever labeled, "DO NOT PULL UNDER ANY CIRCUMSTANCES, ED ASNER," and a live great white shark fell from the ceiling and started flopping around on the stage: The remainder of the show had to be canceled due to the safety hazard posed by the shark.
The 1962 Emmys were hosted by the horse from Mister Ed: He was also the only attendee at the award show that year.
Posthumously awarded Emmys are fed to the recipients' corpses live onstage: It's a solemn tradition dating back to 2009 that never fails to move viewers to tears.
The experience of winning an Emmy has been likened to the feeling you get when you crack open an egg and there's two yolks inside: It's a feeling you never forget.
Host Joey Bishop interrupted the 1963 ceremony to announce that President John F. Kennedy would be assassinated later that year, and everybody in the audience politely applauded: Thinking perhaps it was just a joke that didn't land flush, the crowd at the '63 Emmys wasn't quite sure how to react when host Joey Bishop seized the microphone and shouted, "Jesus fucking Christ, they're gonna kill the president! All of America shall witness as Jack Kennedy, our greatest patriot, is martyred for his country on the 22nd of November! Wowza!"
At the 43rd Emmy Awards, James Earl Jones was screaming too loud from getting his thumb stuck under a soda tab to hear when his name was announced for Outstanding Lead Actor in a Drama Series: To this day, the actor has still not claimed his award.
Actress Maggie Smith started whistling Fastball's "The Way" during her '02 acceptance speech and got the whole crowd singing along: It is now remembered as one of the most extraordinary moments in Emmys history.