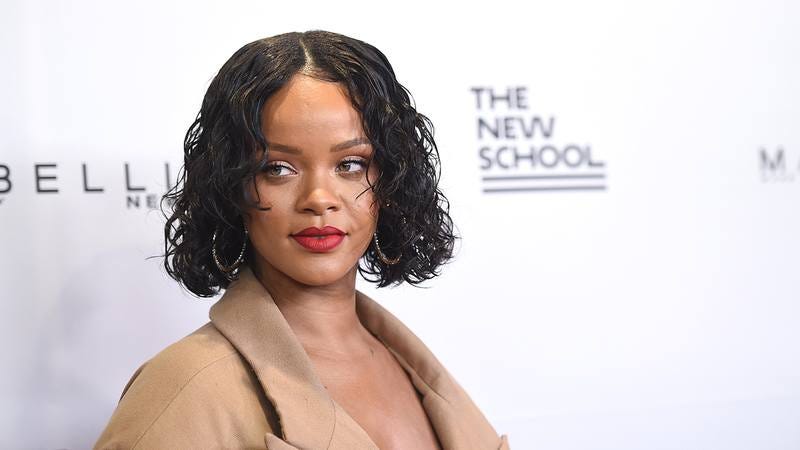 With countless chart-topping hits and seven platinum albums under her belt, at the young age of 29, Rihanna is already one of the most accomplished musical artists of all time. The megastar was kind enough to take a break from her busy schedule and answer five questions for us about her life in the spotlight.
1. You've had a not-so-private on-and-off romance with Drake the past few years. How is your relationship with him these days?
Part of me will always love him, but I can't handle his lifestyle anymore. Drake is the kind of man who is always inflating helium balloons and tying them to his limbs to prove he's strong enough to overcome their lifting power, but one of these days he's going to tie one too many balloons to his body and float away forever. And honestly, I don't want to be there when that happens.
2. Which of your teeth would you say has given you the most trouble this year?
Upper left bicuspid. #12.
3. Your last tour, the Anti World Tour, was grueling and lasted seven months. What did a typical day on the road with Rihanna look like?
Well, I usually like to sleep in after a night of performing, so I'll get up around 9:30, then hit the snooze button on my alarm clock a few times before I realize it says p.m. and not a.m. Around then I yell, "I'm late for my show!" then hail a taxi to the stadium while I'm brushing my teeth and combing my hair and stretching. From 10:00 to 10:15, I'm apologizing to my fans while I eat a really quick breakfast onstage. Then I realize I left my microphone on the nightstand, so I have to yell my songs loud enough for 40,000 people to hear me, which just kills my voice. Show's over around 11, I have some tea, in bed by 12, ready to do it all again the next day.
4. How did growing up in Bridgetown, Barbados influence your music?
The city seal of Bridgetown shows two hippocamps, which are creatures with the upper body of a horse and the lower body of a fish. Seeing those hippocamps every day heavily influenced my early songs, such as "Arms Of A Horse/Legs Of A Fish," "Saddles Just Slip Off Of Me Into The Sea," and "Can't Walk, Can't Swim."
5. What's your biggest fear?
Sometimes, the power of my own artistry scares me. Like, what if I ever wrote a theme song for Pol Pot, and then all of a sudden, everybody loves Pol Pot? I couldn't live with myself. I thank the Lord every day that I haven't written a theme song for Pol Pot.