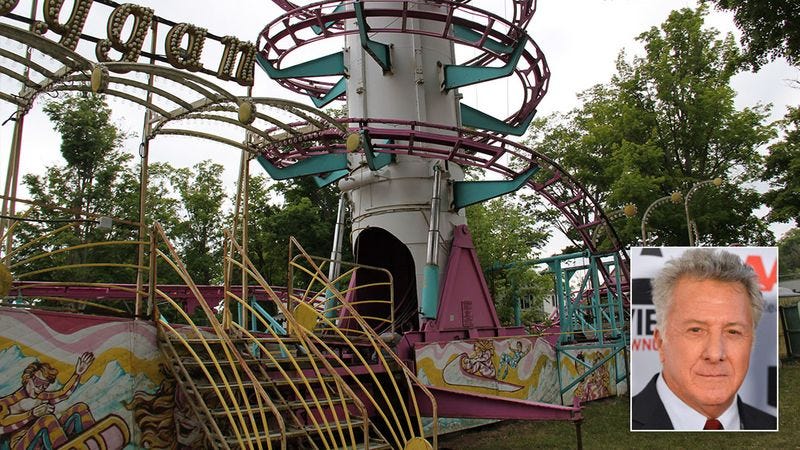 We have nothing but respect for Dustin Hoffman, but we're going to publish these photos anyway.
1. When we look at this park, frozen in time as rot and decay take their toll, we can't help but think about how upset Dustin Hoffman will be when he sees us post this.
2. Looking at this surreal image, it's hard not to see the kinetic energy that once flowed through this now-deserted park. Dustin Hoffman can plead all he wants, but at the end of the day, this is still our call.
3. Years have passed since this wooden roller coaster saw its last rider, and they have not been kind. This photo exists as a monument to lost innocence, and honestly, we aren't sure what Dustin Hoffman had against it.
4. We don't know much about this photo, except that it gives us chills and that Dustin Hoffman was willing to pay us a thousand dollars cash to keep it from seeing the light of day. It would have been easy to take the briefcase, especially coming from someone with such an incredible body of work, but it just didn't feel right.
5. Dustin really pulled out all the stops trying to convince us not to release this stunning snapshot of nature moving in to reclaim an abandoned bumper car track. He offered us a role in one of his movies, but we turned him down.
6. This Ferris wheel looms above the empty grounds, broken and left behind by the people it once carried. It's exactly the kind of stark, eerie portrayal of a long-forgotten attraction that the public deserves to see, but good luck explaining that to Dustin Hoffman. Dustin told us that he makes more money in an hour than we do in a year and has no problem fucking us over.
7. What's done is done. Dustin shared his opinion, but we've made our decision. These photos are too captivating to sit on a hard drive, unseen. If Dustin wants to view this as some sort of betrayal, so be it.