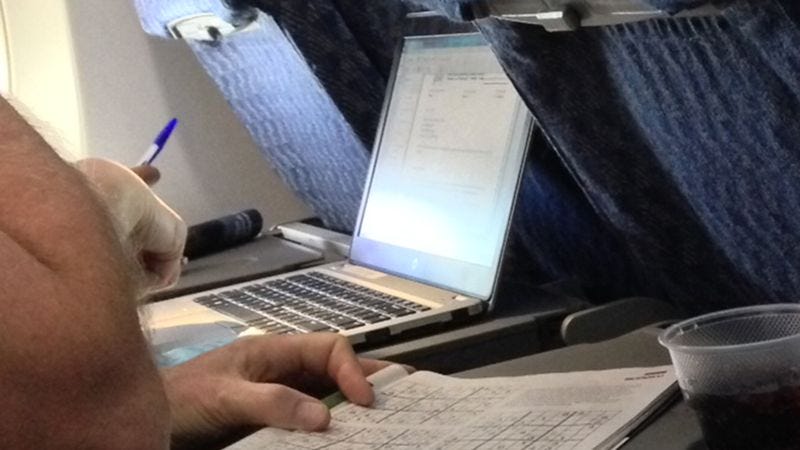 We don't have all the details yet, but here's all the information we've gathered thus far.
1. He has a job that requires him to enter dollar amounts into an Excel document.
He was doing this for a long time. We couldn't tell what any of the dollar amounts correlated to, but some of them were for over a thousand dollars.
2. He is scheduled to "Touch base with Brockton."
We learned this when he briefly pulled up his iCalendar.
3. He really likes the Bourne movies.
There was a folder on his desktop that was just called BOURNE, and it looked like it had all the movies in there. He watched The Bourne Legacy for a while, but stopped when the drink cart came around.
4. He has a wife and daughter.
He is posing lovingly with a woman and a little girl in his computer's background photo, and we're confident in assuming that these people are his wife and young daughter.
5. He went on vacation to Florida or some place like it.
This is also something we deduced from the background photo.
6. Either he or someone he works with is named Jason.
One of the files he had opened up was called JasonRemittance.xls. You figure either he or someone he's professionally affiliated with must be a Jason.
7. He is financially secure enough to pay $8 for three hours of internet access.
It could just be that his work pays for it. But he definitely carries himself in a way that would suggest he's comfortable shelling out for mile-high Wi-Fi.
8. His trackpad is absolutely filthy.
He should really consider cleaning it.