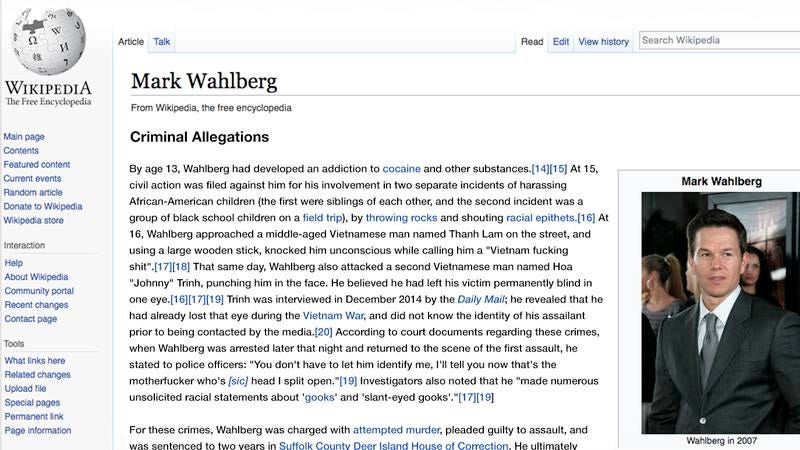 Okay, so this rules in so many ways. Wikipedia was already the ultimate source for reading about anything and everything you could possibly imagine, but the online encyclopedia just proved that they "get it" in a game-changing way: Everyone's "criminal allegations" section will now be at the top of their Wikipedia page so you can get right to the good shit.
Can we get a "hell yeah"?!
All the bad shit that any person with a Wikipedia page has ever done—even if they've not yet been proven guilty, or if they've since been proven innocent—is headed to the front and center of the article on them! Wikipedia knows its users want the dirt, and they're brilliantly accommodating that by ensuring readers get a sourced description of every last criminal allegation a public figure's been hit with before their picture or even their name. If a person has ever committed a DUI or failed to show up for a court date or generally been accused of any crime whatsoever, it's gone from a subsection to the marquee of their page.
Damn straight! Sorry, Hugh Grant, but your acting career comes second, right after the one time you got caught picking up a prostitute. And buckle up, Tim Allen, because before people learn about your incredible rise to fame on Home Improvement, they're going to get a deep dive on that time you tried to mule a shit ton of cocaine through the Kalamazoo airport and turned in all your friends to avoid jail time.
Chalk this up as another big win for Wikipedia!
Yup, you can bet this has got us incredibly psyched. Effective now, falling down a Wikipedia wormhole will be easier than ever given how quickly you can jump from the page of one celebrity with a smudged criminal record to another, with all the juicy morsels of legal quandaries they've found themselves in made as prominent as possible. Faith in the internet officially restored!