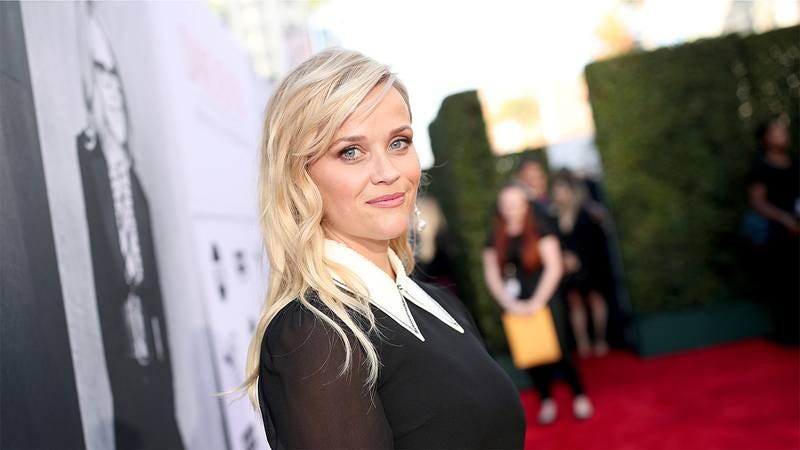 Since starting her successful production company, Pacific Standard, Reese Witherspoon has become a Hollywood mogul and pioneered female-driven shows like Big Little Lies and her newest movie, Home Again. The actress, director, and executive producer was kind enough to sit down with us and answer five questions about being a powerful woman in the film industry.
1. Big Little Lies, which came out on HBO earlier this year, took the world by storm with its rich tableau of female characters. Did you always know what character you wanted to play?
No, playing Madeline was actually 100 percent an accident! I initially wanted to play Grisselda, the witch who cursed Alexander Skarsgård's character's penis to be both extremely horny and very evil, but then my producers kept telling me I had more of a type-A personality and Madeline would be a more natural fit. In the end, it was definitely the right call, because when David E. Kelley adapted the Big Little Lies book to television, he decided to kill off the witch by having Shailene Woodley's character drown her in the ocean.
2. What was it like working with so many incredible women like Nicole Kidman, Laura Dern, Shailene Woodley, and Zoë Kravitz?

It was incredibly enriching and life-changing to work with such amazing women, but also somewhat disheartening, because Hollywood celebrity tour buses kept driving by our set and telling passengers that we were shooting Sex And The City 2: The Movie. Not only was it disappointing to be mixed up with the cast of another female show, but Sex And The City 2 was released in 2010 and set primarily in New York City and Dubai, so I'm not really sure where the confusion came from.
3. What initially inspired you to get into such an unforgiving and cutthroat profession like acting?
There's an old saying in the South: "Be an actress, Reese Witherspoon." I'd heard it my whole life, and one day it just hit me: "I'm a Reese Witherspoon, and I should be an actress."
4. You look astonishingly similar to your 17-year-old daughter, Ava Phillippe. Is that fun for you two?

It's fun to swap clothes and take pictures with each other, but sometimes it's hard when I'm working on a film and our brains get Freaky Friday-ed with each other. Sometimes, I'll wake up in my daughter's body the morning after a blowout fight, but we look so alike that I'll go about my day not thinking anything of it, and then boom—24 hours later, I realize my body is walking around in a Los Angeles high school somewhere.
5. For your new movie, Home Again—
Oh yeah, I'd say I was actually reading lines in my daughter's body, like, 80 to 90 percent of the time while filming Home Again, and if you look closely, you can probably catch glimpses of it. Also, if you'll excuse me, I have to go swap bodies with my daughter right now, because I just realized my brain is actually inside Ava as we speak.