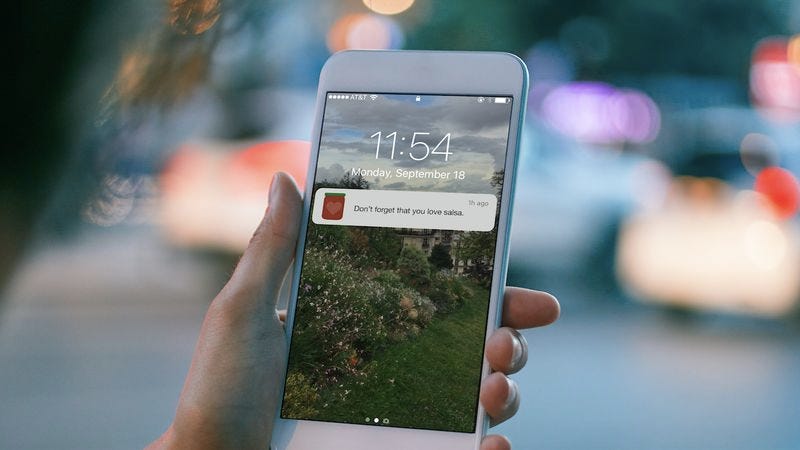 In today's hectic world, keeping your priorities straight can feel next to impossible. Thankfully, a pair of developers came up with a way to cut through all the craziness and keep you focused on what matters most: This awesome new app sends you a daily reminder that you love salsa!
Yes! This is the app we've all been waiting for!
SalsaPal is a new mobile app that serves a simple yet essential function: It automatically sends you a push notification every 24 hours reminding you that you love to eat salsa. According to its creators, Andrew Bern and Maggie Ng, all you need to do is download the app and complete a single-question survey about whether or not you love salsa, and within seconds, you'll receive your first daily reminder that the spicy, tomato-based sauce is your favorite.
For anyone who gets overwhelmed by the relentless pace of modern life and needs some help remembering how they feel about salsa, this app is definitely a godsend. While the app defaults to daily notifications, users can adjust that frequency and receive anywhere from monthly to hourly notifications about their love of salsa, depending on their needs!
But enough talk—check it out in action!
Yeah, this is just what the doctor ordered.

SalsaPal is also available for both iOS and Android, and there's even a Chrome plug-in that sends a notification straight to your desktop to remind you that you love eating salsa with tortilla chips. Although the app is staying free, Bern and Ng are currently at work on SalsaPal Gold, a $2.99 premium upgrade that will let users customize whether the reminders let them know they like salsa verde, salsa roja, and/or pico de gallo.
Hopefully, it's a sign of more SalsaPal upgrades to come (we'd love a social media plug-in, if you're listening). We can't wait to see what these two develop next!