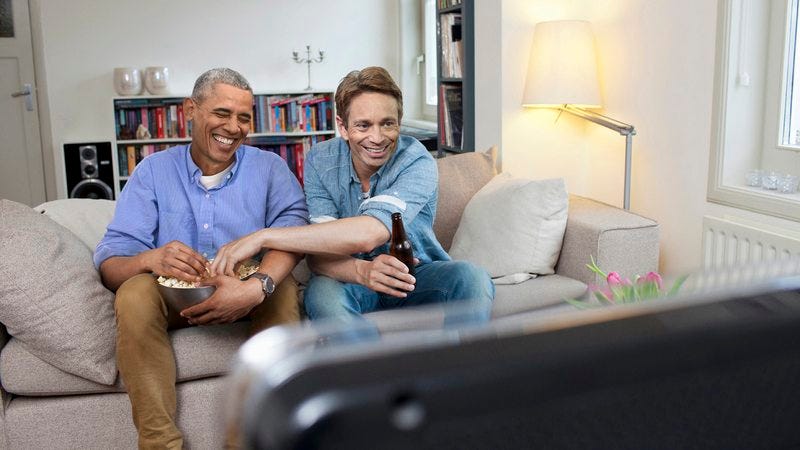 After eight years in the White House, Barack Obama finally has some time to relax, and it looks like he's committed to unwinding in style. Ever since leaving office in January, President Obama has been living the post-presidential good life by hanging out nonstop with Saturday Night Live alum Chris Kattan!
Wow, it looks like President Obama is officially on 24/7 Kattan time, baby!
Sitting presidents don't get to have very much fun, but now that Barack Obama is a private citizen, he's taking full advantage of his newfound leisure time by spending nearly every moment of his life hanging out and living it up with Chris Kattan. From the moment the sun rises until the moment the sun sets, Obama and Kattan can be found watching movies, playing video games, setting off fireworks in Kattan's backyard, or hanging out on the side of the highway throwing rocks at passing cars. The only time Obama is not hanging out with Chris Kattan is when he's asleep. It's awesome to see President Obama finally get to cut loose and relax with Chris Kattan without the daily pressures of the Oval Office to weigh him down!
And while you might think that spending literally every second of his waking life hanging out with Chris Kattan would mean that President Obama has no time to spend with his wife and daughters, that couldn't be further from the truth! Barack and Kattan join Michelle, Sasha, and Malia for a family dinner almost every weekend! It's truly the best of both worlds!
We're so excited that Barack Obama is finally getting the post-presidential life of relaxation he deserves! Hopefully the former POTUS has many more fun-filled days doing nothing but hanging out with Chris Kattan to look forward to. Congratulations on living the good life, President Obama, and tell Chris Kattan we said hello!