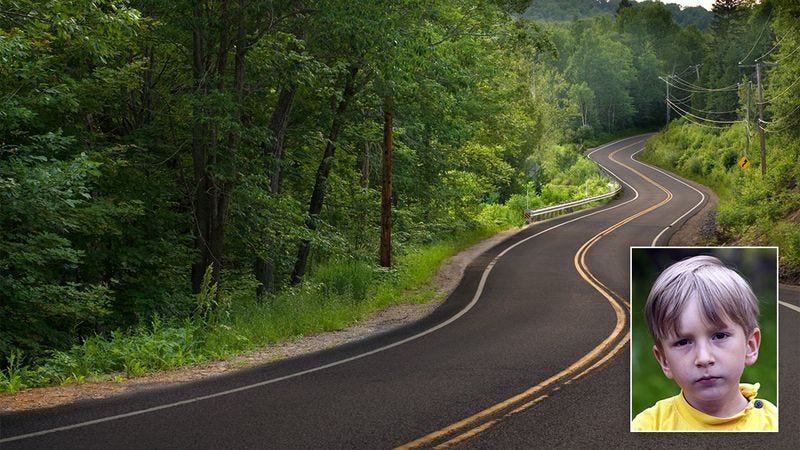 Get ready to be inspired, because what one generous TV star did for a terminally ill fan is so beautiful, it will remind you why life is worth living.
Anyone who knows 9-year-old leukemia patient Luke Palermo can tell you who his biggest hero is: the winding two-lane mountain road from just about every car commercial. Luke adores the curvy road. He talks about it constantly, loves watching cars drive along it, and knows every ad it appears in by heart.
So, his parents and doctors knew that if he had a chance to meet the same road he'd seen hundreds of times in commercials for Audi, Toyota, GM, and more, he'd be absolutely over the moon.
One day in late July, it happened: The curvy road took time out of its busy schedule to visit Luke in his hospital room. And as soon as the road's silhouette appeared in the doorway, Luke let out a shriek of joy—he recognized his idol instantly.
Wow! What a wonderful thing to do for a fan!
The road stayed with Luke for over an hour, posing in its instantly recognizable curved shape as dozens of cars drove down it: the 2015 Hyundai Tucson, the 2014 Ford Escape, and the classic 1980 Porsche 944. At one point, the curvy road even whispered a description of an upcoming commercial spot into Luke's ear after he promised he wouldn't tell anyone about it!
Not everything is going to be easy for Luke, but sometimes all you really need is one angel looking out for you, and sometimes that angel looks like this:
Amazing. Thank you, road! The world needs more TV stars like you.