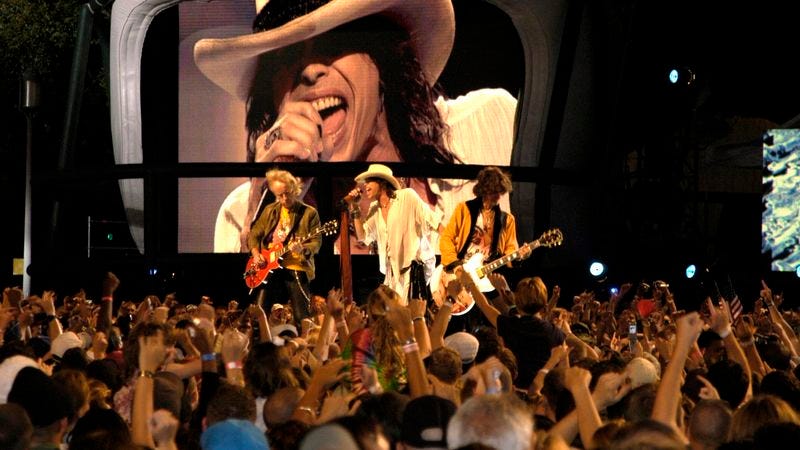 It does not get more casual than this!
1. Jeremy Givens
At first glance, you'd have no idea Jeremy is one of the world's most casual Aerosmith fans. But when you learn he doesn't own any Aerosmith T-shirts and can only name Steven Tyler and Joe Perry as far as band members go, it's easy to see why Jeremy is on this list. Icing on the casual cake? Aerosmith is one of 60 bands listed under "favorite music" on Jeremy's Facebook page. Yes.


2. Renee Park
Renee has never once imagined what she'd say to Steven Tyler if an elevator broke down and stranded them for hours. She also agreed that "I Don't Want To Miss A Thing" could be the first-dance song at her wedding, because her husband, Brett, is a huge Aerosmith fan, and she thought it was fine. Nice!
3. Jennifer Straney
Mega-casual fan Jennifer has what only the most casual fan would have: a cassette tape of Toys In The Attic somewhere in her closet, or maybe in her car's glove box. Keep rockin', Jennifer!
4. Kyle Perez
Kyle's favorite Aerosmith songs are "Walk This Way" and another one that he can only sort of hum the tune to. For that alone, he makes this list.
5. Chelsea Flynn
Chelsea isn't some run-of-the-mill casual fan who occasionally plays "Rag Doll" on Guitar Hero or watches the 1998 drama Armageddon. She's never done either of those things, but last weekend, "Sweet Emotion" came on her AC/DC Pandora station and she didn't change it. Yeah. That's how you separate the wheat from the chaff in casual Aerosmith fandom.
6. Dustin Archibald
Sure, Dustin has an Aerosmith poster in his bedroom, but don't let that throw you; he inherited it from a previous tenant and never got around to taking it down. Need more proof he's casual? To this day, Dustin thinks that "Paradise City" is an Aerosmith-penned tune. Incredible.
7. Chris Longchamp
If you'd met Chris in high school back in 1982, you'd have seen a huge Aerosmith fan who once drove 13 hours straight to catch a show in Minneapolis. Then he went off to college and outgrew the Boston bad boys pretty quickly. Fast forward to 2015, and Chris doesn't really have time to listen to much music. He still smiles when "Dream On" comes on the radio, though, remembering an earlier time. Amazing. We salute you!